Serial Control...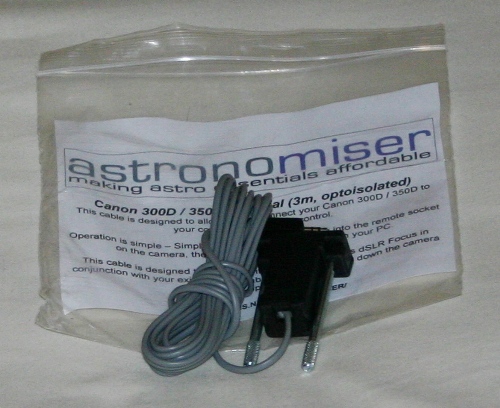 3m, 6m or 10m serial shutter control cable for Canon EOS dSLR Cameras
This cable allows your PC to control the shutter function of your camera.
In the D9 serial plug a small circuit uses a high CTR opto-isolator to electrically isolate your camera from your computer. This is important to stop noise transfer from your PC (and other equipment connected to it) to your camera.
Other alternatives (using a switching transistor) are available but these DO NOT isolate your camera from computer noise etc.
This cable should be used in conjunction with a USB cable (supplied with the camera, although you will probably wish to extend this - see note below) to use with software such as:
The cable is made with either 3m, 6m or 10m of lightweight shielded audio quality flex. On the PC end a tough ABS D9 plug enclosure is used and a plastic covered stereo jack with cable strain relief at the camera end. The lightweight cable is used for this flex to reduce drag on the camera (which may effect a telescope's tracking in equatorial mode) and the amount of weight on the end of the scope being used for the shot, meaning that overall balance of the system is affected to a lesser degree.
In later models (450D, 500D, 550D, 1000D) the shutter can be fired for exposures over 30 seconds by using the supplied USB cable though some users still prefer to use a dedicated shutter release cable as you can use mirror lock without activating the 'live view' mode which creates thermal noise in images.
The majority of Canon EOS dSLR cameras have a 2.5mm stereo jack remote socket (at time of writing this includes 300D, 350D, 400D, 450D, 500D, 550D, 600D, 1000D, 1100D) but some will need a modified N3 controller to use these cables (20D, 30D, 40D, 50D, 60D, 60Da) - see Modified N3 Remote Control and N3 Remote Control Conversion below.
---
Canon EOS dSLR to Serial Converter (3m, optoisolated)
AST300DS3M
£17.95
Canon EOS dSLR to Serial Converter (6m, optoisolated)
AST300DS6M
£19.95
Canon EOS dSLR to Serial Converter (10m, optoisolated)
AST300DS10M
£21.95
About Payments...
---