Guide Port Interface...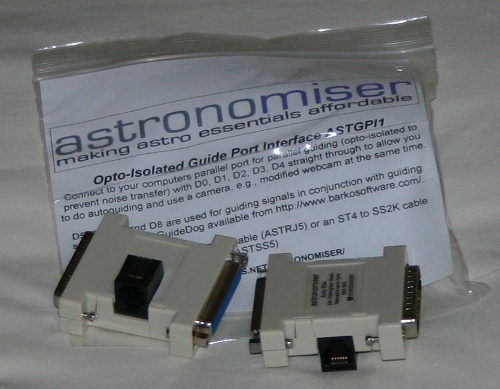 Use in combination with autoguiding software to control your mount via parallel guiding.
***** THIS ITEM IS NO LONGER AVAILABLE - THE BELOW INFORMATION IS LEFT IN PLACE FOR CURRENT USERS/ OWNERS *****
The Guide Port Interface uses opto-isolators to switch the mount's RA and Dec motors (at guide speed) to adapt for tracking errors. Parallel port pins 6, 7, 8 and 9 (D5, D6, D7, D8) are used to control guiding leaving the remaining pins 'straight-through' which means you will still be able to use the parallel port with either dSLR parallel control or a long exposure modified webcam (ATiK, SC1, 2, 3, 4).
The opto-isolators allow a 'hi' parallel pin signal to switch the ST-4 guider pins to 'lo' (i.e., to ground).
For the more technical...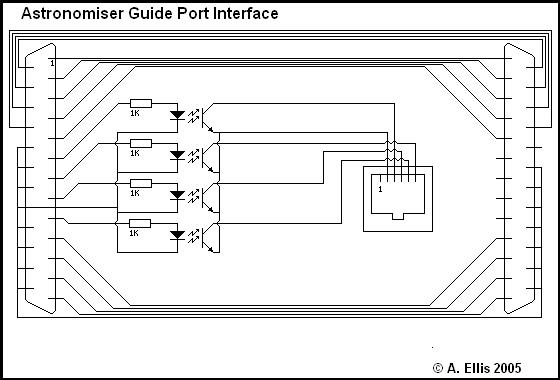 You may freely distribute the above image. Any high CTR 4 pin transistor opto-isolators may be used to construct this unit.
The basics of parallel guiding...
I use one of these units to control my SkyWatcher SkyScan EQ6. I use the following settings in GuideDog.
Don't try and establish communications or 'connect' to your mount - this isn't the way parallel guiding works. GuideDog basically switches the guide lines on and off the either increase or decrease the speed of the RA and dec motors.
Set the Guide Rate on your handset (0.5x sidereal seems to work well with an EQ6 in a highly light polluted site with generally poor seeing/ transparency - a lower rate would be possible in a dark site with less aggressive settings.
In GuideDog, click 'Guiding' and check 'Parallel' - clicking 'Options' will give a five index tab dialogue box.
Under 'Camera'...

Set your camera type and pixel size - for the SC1 I use for guiding...
Pixel width and height 5.6micron
SC Modified
On LPT1
LX Frame A set to D0

Under Guide Scope, set the focal length of your Guide Scope - I use a 555mm WO Megrez FD80 or my 1120mm Intes Micro
Under 'Guiding Parameters'...

Radius - 40 pixels seems to work well.
RA Guide Rate - 15, I leave this at it's default and adjust other settings to balance the reaction of guiding.
RA Backlash - for a guide speed at under sidereal rate, this should remain at 0 as the scope always moves 'with the clock', otherwise, set as Dec backlash
Dec Guide Rate - 15, If you drift align, you may not need to guide in dec. Nick Howes excellent article on UKAstroImaging can be found here, about 2/3rds of the way down, he does a straight forwards explaination of drift aligning.
Dec backlash - about double of your mount's standard backlash setting (if you keep the adjustment time of 1/2 sec) - for my EQ6 I use 200, though I have very carefully seated the drive motors.
Maximum Error - I use 25 pixels, any value over the average error (see below) is good.
Min Error - this is very much seeing dependant - if seeing is worse than 2 arcsecond per pixel, then any value at half of this or lower will do - if seeing is good ~1 arcsec/ pixel, the 0.5 or less is good - it's a balance between avoiding the guider adjusting for seeing andwhen a real adjustment is required - as a rule of thumb, 0.5 works quite well for me.
Only check dec corrections if needed
Only check Autostar Pulse Guiding if supported

Under 'Relay Box' leave the settings at their defaults - before starting guiding and if you have any problems with unexpected slewing, click the 'Clear // Port' button plenty of times.
Logging - I've never got this to work so dunno
General tips...
Insert your guide cam, click preview, select 2 seconds, focus, and adjust it's orientation so that when you press the left and right keys on the hand controller, the star moves on the horizontal and up down gives vertical movement.
Click 'Lock' and click on a star - values will start to show up for dX and dY - these are drifts away from the point you clicked on for RA (dX) and Dec (dY). Click 'Guide'. If the dX values get worse, click 'Reverse E<->W' - if the values for dY get worse click 'Reverse N<->S.
If the values do not stay within +/-1.5 arcsecs, then either up the guide time (in between the NSEW buttons in milliseconds, hence 500 = 1/2 secs) or agressiveness. Under poor seeing, the agressiveness may need to be higher.
Some say guiding is a black art - they're not entirely wrong - just keep fiddling with the settings until it's right. Once you get a feel for your mount/ scope combo's settings on a good seeing night and a poor seeing night, you can virtually forget about it. These days I spend 2 or 3 minutes setting up guiding - I used to use LX200 emulated guiding, but really, parallel is so much easier...
---
Guide Port Interface (opto-isolated)
Sorry - No longer available.
ASTGPI1
£--.--
About Payments...
---